Even though this movement is for a day of silence, i feel the need to explain a bit of my personal beliefs.
Today's post is definitely a sensitive topic, but I am definitely pro-life. I know some of you may not agree, but that's how I feel.
Honestly, I am uncertain about how I feel about abortion in certain cases such as rape, incest, or if the mother's life is in danger, but I do know and believe that if a woman decides to have an abortion for whatever reason, my heart is with her. My job is not to condemn her, nor would I or do I feel any hate toward her, only compassion & love.
One reason why I am pro-life is because I think,
"What if my parents knew that I'd be born with a progressive muscle disease?
Would they still want me?
Would they still love me, even though I wasn't perfect?"
If they knew, maybe they would have considered abortion and then if they went through with it, i would never have been here. I'd never be an older sister. I'd never be a friend. I would never be blogging. I wouldn't know you, you wouldn't know me. There would never be a Bee Littlequeen blog.
I just think of all the precious lives that could have been, that never got a chance to be their full potential.
Plus, I believe that children are a blessing from God.
I am joining Becca of A Humble Bumble and other bloggers to remember all the children that never got a chance or who never will. For their parents or mum's who made probably the most difficult decision of their lives.
*****************************************************
Tuesday, January 22nd will mark the 40th anniversary of Roe v. Wade, which legalized abortion in the United States. Since that tragic day in 1973, over 50 million children have lost their lives to abortion.

Since the legalization of abortion, thousands of life-saving Crisis Pregnancy Centers have sprung up across the country. These centers offer support and care for mothers (and fathers) facing crisis pregnancies. The caring workers and volunteers at the centers help the parents make a good decision for their child, starting with the choice of life.

Crisis Pregnancy Centers also offer post-abortion counseling. If you or someone you know has had an abortion and are in need of counseling, please your local center.

In memory of the 50 million plus children who have lost their lives in the horrible act of abortion since 1973, let's show our support of the Crisis Pregnancy Centers and also observe a blogger day of silence.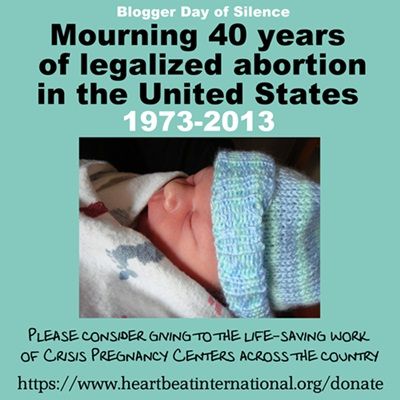 "Heartbeat International currently serves over 1,400 affiliated pregnancy help centers, maternity homes, and non-profit adoption agencies in all 50 states and in 47 countries."

source




Thank you for taking a stand for the most innocent of life... the unborn.