I'm linking up with
ashley of adventures of newlyweds
for friday's letters. it's my very first friday's letters post!! I've seen this being done many a time throughout blogland and always wanted to it and here's another friday, praise God! and im finally getting it done!! There are just so many fun linkups and great inspiration for posts, but i can only choose one at a time. so alas the letters it is because well, i think handwritten letters are wonderful and so this theme it is!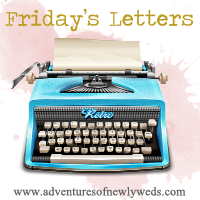 Dear Dad,
sorry i missed you yesterday when you were in the area. i thought my phone was on vibrate and when i checked my phone i saw it was on silent-no wonder i didn't get your calls! See you on monday after golf! (i'll present your present for father's day!)
Dear ziggy,

you are seriously one of the cutest dogs ever! I love your stubby muscle-y arms & legs. I am so happy that your mama Lynda adopted you! You are a sweetie!
Dear smoothies,
I love you! you're so delicious, refreshing and healthy. Even just drinking a small cup of you makes my tummy full. i love that! cheers to making my immune system more strong!
Dear goodwill,
you kinda sucked yesterday! I was hoping to find a dress or skirt in my size but no. the only ones that were there were
uglay
and i wasn't about to spend $10 on one that i know i could get and be cute @f21 or oldnavy for just a few dollars more. However, you redeemed yourself by offering me a good book that i know i will love, for cheap.
Dear wrist,
could you please stop hurting. I have alot of typing and writing to do. Ya know i love letter writing and having to stop to take breaks & stretch is annoying.
Dear Miranda & Blake,
I think you two are such a hot country couple! I have a new likeness for you ever since I saw Behind the Music featuring you Miranda. It made me want to go buy your albums now. I also love that you started
MuttNation Foundation
. I don't know you, but i am so happy that you two are together!